The Best Player He Could Be
Serve
Today, Eric Butorac makes sure everything runs smoothly for the players at the U.S. Open. It's a big circle because he was once one of the elite players rushing the net on those courts. He started playing tennis as a boy and even then Gustavus was a part of his life. "I was going to the campus regularly as a kid. I would go to tennis camps in the summer. I was there to help clean up after the tornado. So I had close ties to the school. Everyone thought I would go to Gustavus," he says. "I rebelled and went to a different school."
His rebellion was short-lived. He returned to Gustavus to work with coach Steve Wilkinson, a mentor who his father had also served and volleyed under. "I think within even the first couple weeks of transferring to Gustavus I knew I'd made the right decision. I knew that I had a coach that understood me and someone I could turn to that would be like a second father figure in my life."
"I think within even the first couple weeks of transferring to Gustavus I knew I'd made the right decision."
Eric negotiated court time and class time and learned a lot about time management and pacing. He credits Coach Wilkinson for walking him through. "Steve Wilkinson was everything to me. He was a guy who would tell me how it was going to be, and be tough on me at times and encourage me to give more to myself or would open his door at midnight and sit with me in his kitchen to help me do my schoolwork," Eric says.
"I think the balance that you can get from a liberal arts education at a place like Gustavus is really special," he says. "When you're 18 years old I think most kids have no idea what they're going to do. It gives you exposure to so many different areas, whether it's art or science or sports or a social scene, you can get all of that and get a heavy dose of it at a liberal arts college."
At one of Eric's very first practices at Gustavus, Coach Wilkinson explained to him that the whole process of tennis at the College was about him becoming the best player he could be. "It was an internal goal at how good I could get at this game of tennis." And for Eric, that was very good. After graduation he joined the professional tennis tour.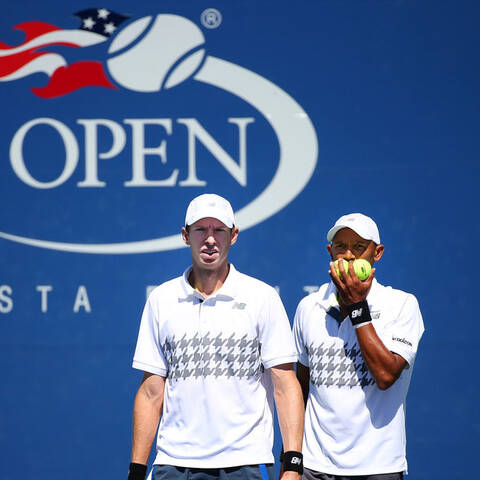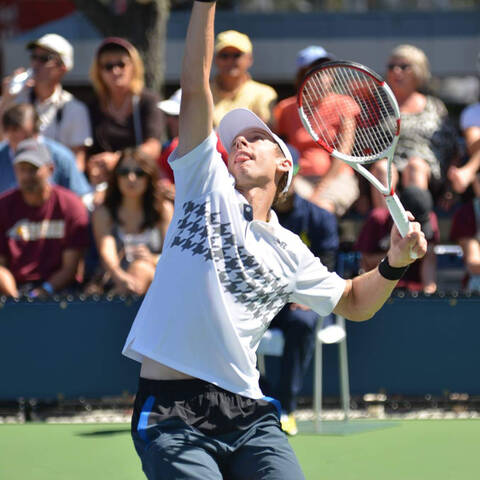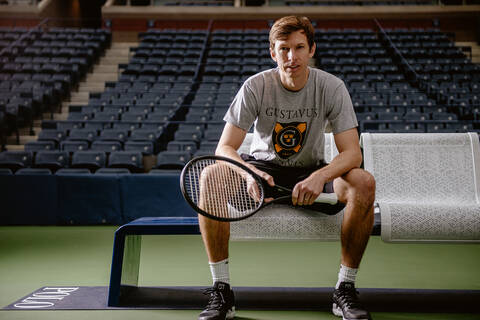 "As I got onto the pro tennis tour, my peers at Gustavus were so proud of me. I had to keep going," he says. "It's those emails and those phone calls and those text messages that got me through."
For six years Eric was the number three ranked American doubles player and ranked in the top 25 in the world. The pinnacle of his career was playing in the doubles final at the Australian Open with his partner Raven Klaasen. His best shot was his serve. On October 6, 2018, Eric was inducted into the Athletics Hall of Fame at Gustavus as a five-time All-American and winner of the 2003 NCAA singles and doubles championships. Eric also received the first-ever Gustavus Male Athlete of the Year award in 2001.
That same year Eric took a Gustavus J-Term course to Australia. "At the time one of the parts of the course allowed us to go to the Australian Open. And as I sat there with a classmate, she pointed to one of the players on the court and said, 'Hey, Eric one day that could be you out there.' I explained to her that very few college tennis players ever play pro tennis, going pro wasn't something that a Division III player even dreamed about." He smiles. "Fourteen years later I was playing in the finals of that event."